As one of the premier luxury brands, it's no surprise that Givenchy has had several pieces that have made it to "it bag" status. The Antigona is one such bag that has swept through the closets of the fashion elite and dominates the resale market while continuously resurfacing as an investment piece for handbag enthusiasts and collectors.
History
Following the success of the Nightingale, released in 2005, Givenchy was in need of another cult favorite. In 2011, Riccardo Tisci, then creative director, unveiled the simple yet rigid Antigona; a total contrast to the relaxed silhouette of the Nightingale, but no less instantaneously popular.
The Antigona features a zip-closure, two top handles, a shoulder strap, two interior slip pockets, and an interior zip pocket. Several of the first iterations of the Antigona did not have removable shoulder straps; it was later when the hardware was updated that the strap could be removed by aligning breaks in the rings to slip them off.
For Spring 2020, Waight Keller introduced a new silhouette of the Antigona currently referred to as the Antigona Soft. Seemingly melding the elements of the Antigona with the relaxed appearance of the Nightingale, this handbag is slated to capture the hearts of diehard Givenchy addicts.**
Courtesy of Hypebae
Antigona Sizing Breakdown
The Antigona's availability of sizes greatly contributes to its popularity. With the three sizes currently available, the Antigona manages to cater to a wide array of clients' needs.
Mini
Small
Medium
Large
(Discontinued)
The Antigona Collection
To parlay the success of the Antigona, Givenchy capitalized and extended its identifying elements into several other silhouettes. While the original Antigona continues to sell at retail and is the primary shape to be found across the resale market, these versions are sought after since they are no longer produced.
Shopper
Pouch
Beauty Clutch
Envelope Clutch
Crossbody
Side Zip Tote
Materials And Hardware
One of the interesting aspects of the Antigona is its availability of materials. The Antigona is most often seen in the below materials but several patent and Nubuck iterations have surfaced over the years.
Box Calfskin
Glazed Calfskin
Textured Calfskin
Goatskin
Patent
Nubuck
When it comes to the Antigona's hardware options, Givenchy has kept it simple, sticking with goldtone and silvertone hardware. There is a limited edition Kenya Metal version of the bag that features slightly darker gunmetal hardware.
Special Editions
The Antigona's popularity has lived long past the reign of Tisci, and Givenchy has availed by expanding the range to include numerous special editions. A few of the more common versions that can be found include:
Tricolor
Crocodile Embossed
Snakeskin
Ostrich
Elaphe
Studded
Kenya Metal
3D Embossed
Python
Brogues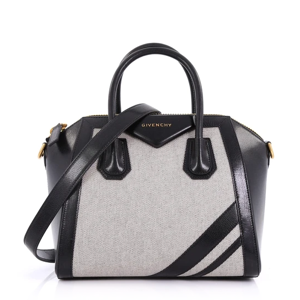 Canvas
Oil Slick Patent
Printed Leather
Woven Detail
Metal Corner Hardware
Pony Hair
Mixed Materials
Contrast Stitching
Rubber Effect
Metallic
**As more information becomes available, this guide will be updated to reflect the inclusion of this model.